Il virtual WWDC20 sarà a Giugno, ecco la conferma
Reading Time:
2
minutes
All'inizio dell'anno Apple ha confermato che avrebbe apportato un cambiamento significativo al Worldwide Developers Conference annuale, percorrendo una strada tutta digitale a causa della pandemia di coronavirus in corso. Oggi è arrivata la conferma: il Virtual WWDC20 sarà a Giugno.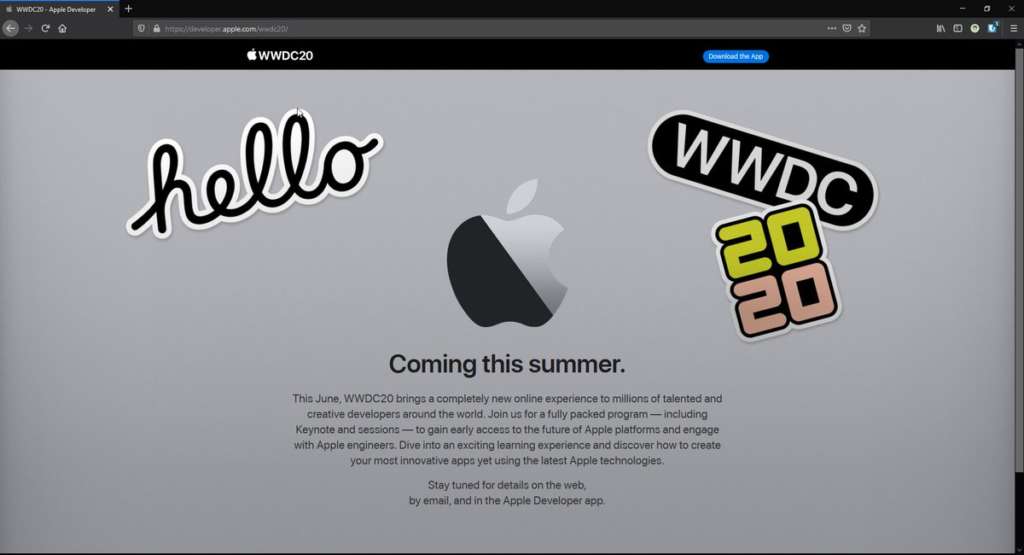 All'inizio Apple affermò che l'evento WWDC di quest'anno si sarebbe svolto puntualmente a giugno. Sino ad oggi non era mai rilasciato dichiarazioni circa la data. Oggi, però, la situazione ha subito un mutamento in quanto l'azienda ha annunciato che il Virtual WWDC20 sarà a Giugno, nello specifico il 22. La conferenza annuale sarà visionabile attraverso l'app Developer di Apple e il sito web dedicato agli sviluppatori.
Il WWDC20 sarà il nostro più grande evento mai realizzato, che riunirà la nostra comunità globale di sviluppatori di oltre 23 milioni di persone in un modo senza precedenti per una settimana a giugno, per conoscere il futuro delle piattaforme Apple", ha dichiarato Phil Schiller, Senior Vice President of Worldwide Marketing di Apple. "Non vediamo l'ora di incontrarci online a giugno con la comunità globale degli sviluppatori e condividere con loro tutti i nuovi strumenti su cui stiamo lavorando per aiutarli a creare applicazioni e servizi ancora più incredibili". Non vediamo l'ora di condividere ulteriori dettagli sulla WWDC20 con tutti, man mano che ci avviciniamo a questo evento entusiasmante".
Apple annuncia anche la Swift Student Challenge, che permetterà agli studenti di dimostrare il loro amore per la codifica utilizzando l'ambiente Swift playgrounds. Le iscrizioni per la nuova Swift Student Challenge sono aperte, e rimarranno aperte fino a domenica 17 maggio.
Gli studenti sono parte integrante della comunità di sviluppatori Apple, e l'anno scorso il WWDC ha visto la partecipazione di oltre 350 studenti sviluppatori di 37 paesi diversi. Non vediamo l'ora che arrivi il WWDC20, anche se il nostro incontro sarà virtuale quest'anno, vogliamo riconoscere e celebrare i contributi creativi dei nostri giovani sviluppatori di tutto il mondo. Non vediamo l'ora di vedere questa nuova generazione di pensatori innovativi trasformare le loro idee in realtà attraverso la Swift Student Challenge.

– Craig Federighi, Senior Vice President of Software Engineering di Apple
La Swift Student Challenge sfrutterà l'app Swift Playgrounds, disponibile per iPad e Mac. È stata progettata per rendere l'apprendimento del linguaggio di programmazione Swift di Apple divertente e interattivo. Per gli studenti interessati a mostrare le loro abilità di Coding con Swift ci saranno delle tempistiche da rispettare. Avranno tempo fino alle 23:59 PM PDT del 17 maggio per creare una scena interattiva che possa essere vissuta in tre minuti.
Il virtual WWDC20 sarà a Giugno, il 22. Questa data è diversa dagli anni passati (sempre stata nella prima settimana di giugno). Indubbiamente anche per Apple, amante delle date ricorrenti, non è stato semplice cambiare. Per ora non ci resta che aspettare e iniziare il countdown per uno degli eventi più atteso da tutti gli amanti della Mela.
[Via]