Come passare da Android ad iOS in pochi step
Reading Time:
2
minutes
Oggi vedremo come passare da Android ad iOS in pochi e semplici passaggi: grazie all'applicazione Move To iOS potremo trasferire tutti i dati essenziali nel nuovo iPhone.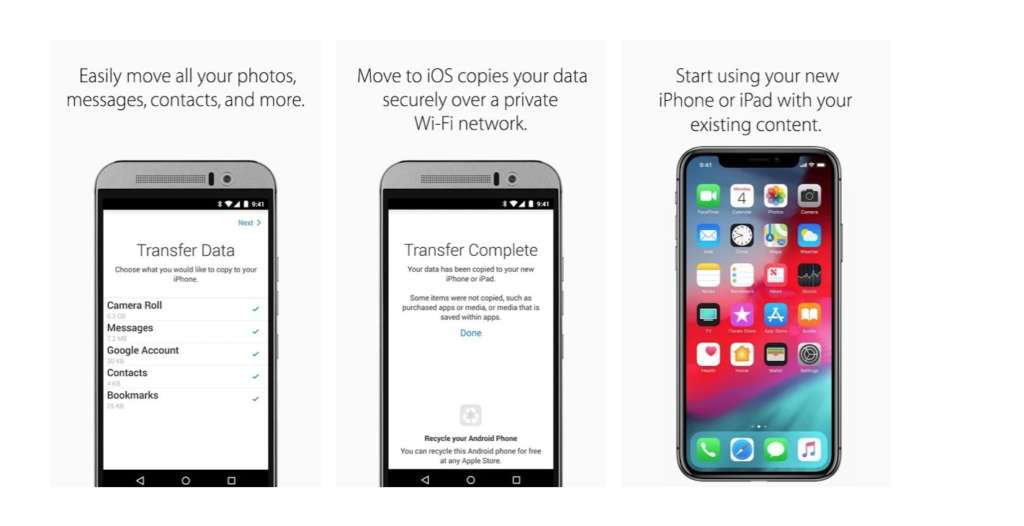 Se avete uno smartphone Android e avete intenzione di passare a dispositivi Apple, vi sarete sicuramente chiesti: ma i dati come li trasferisco?
Nel mondo Apple, come per il mondo Android, se si cambia smartphone mantenendo lo stesso sistema operativo, basta un semplice recovery da un backup: ma se i sistemi non sono gli stessi i problemi sono tanti.
Oggi vi spiegheremo come poter trasferire i dati principale da Android ad iOS.
Move to iOS: grazie Apple!
Qualche anno fa, il trasferimento dei dati tra i due sistemi operativi era pressoché impensabile.
Ma per nostra fortuna, Apple ha sviluppato un'utilissima applicazione, Move to iOS, che trasferirà i dati principali senza dover impazzire.
L'applicazione, che è presente sul Play Store gratuitamente, ci permetterà di trasferire contatti, foto, messaggi e video dal nostro vecchio smartphone al nuovo iPhone.
Come da prassi, la casa di Cupertino ha semplificato tantissimo le operazioni da compiere, per nostra fortuna.
Come passare da Android ad iOS
Vediamo, quindi i vari passaggi da fare: per prima cosa, scaricate ed installate sul vecchio Android l'applicazione Move to iOS dal Play Store ed iniziate la configurazione di iPhone.
Quando vi troverete la scelta se creare un nuovo iPhone o trasferire i dati da un Android, scegliete questa opzione;
Aprite l'applicazione sul vecchio smartphone e cliccate continua su entrambi i cell;
Digitate il codice a dodici cifre che si presenta su iPhone sul vecchio Android;
Scegliete cosa far importare.
Come avete visto i passaggi sono veramente semplici: pochi tap e l'applicazione farà tutto per noi!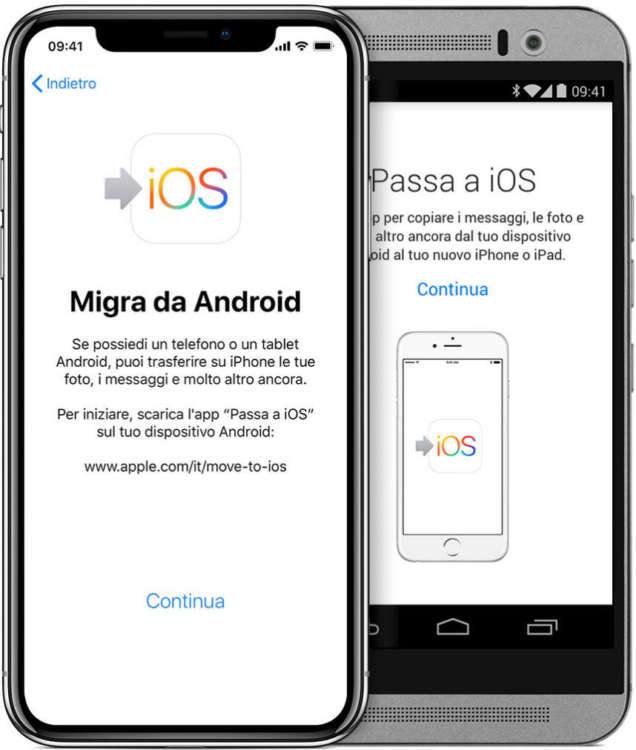 Il trasferimento dei dati
Quando avrete accoppiato i due smartphone, verrà stabilita una connessione Wi-Fi tra i due: tutti i dati passeranno da questo ponte Wi-Fi.
Pur essendo abbastanza veloce la procedura di trasferimento, le tempistiche possono variare in base alla quantità dei dati, al chip Wi-Fi e alla velocità dei due smartphone: potrebbe richiedere molto tempo. Discorso a parte va fatto, invece, per le applicazioni: dovranno essere preinstallate manualmente dall'App Store.
Non c'è modo di trasferirle: dovrete, eventualmente, riacquistare le applicazioni che avevate e creare dei nuovi abbonamenti. I due store, infatti, sono separati e non vi è possibilità di riavere ciò che si è pagato.
Abbiamo avuto modo di usare questa applicazione in passato e dobbiamo dire che funziona egregiamente: i dati vengono trasferiti correttamente senza nessun errore. Se avete, quindi, intenzione di prendere un iPhone ora sapete come passare da Android ad iOS senza perdere i vostri dati.
Nella sezione Guide troverete tanti altri consigli sul nuovo iPhone: configurazione, come utilizzarlo al meglio e molto altro.
Vi ricordo anche di seguirci sul nostro blog e sui nostri canali social per non perdere nessuna recensione e nessuna news.