Integriamo Home Center 2 in HomeKit, la nostra guida
Reading Time:
3
minutes
Home Center 2 in HomeKit è possibile? Anche se sono due protocolli diversi, grazie ad HomeBridge è possibile integrarli. Vediamo come.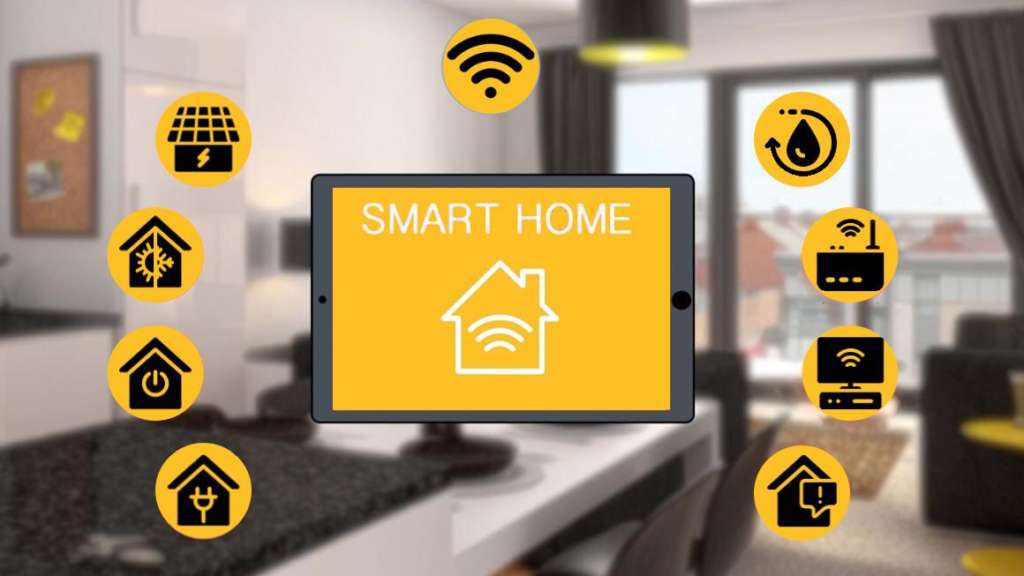 Oramai conosciamo molto bene Homebridge: abbiamo visto come integrare il Fritz Box, il Broadlink e tanti altri prodotti.
In ottica di rendere le nostre abitazioni smart vi abbiamo anche presentato una serie di prodotti della FIBARO che sfruttano il protocollo Z-Wave, tra cui l'Home Center 2.
Ma è possibile avere i dispositivi Z-Wave di Home Center 2 nell'applicazione Casa? La risposta è affermativa, attraverso un plugin.
Installazione del Plugin
La procedura di installazione è sempre la stessa, attraverso i comandi npm:
sudo

npm

install

-

g

--

unsafe

-

perm

homebridge

-

fibaro

-

hc2
Una volta che il nostro Mac ha completato l'installazione, che richiede pochissimo tempo, dovremo andare ad inserire la relativa configurazione nel file config.json.
1

2

3

4

5

6

7

8

9

10

11

12

13

14

15

16

17

"host"

:

"PUT IP ADDRESS OF YOUR HC2 HERE"

,

"username"

:

"PUT USERNAME OF YOUR HC2 HERE"

,

"password"

:

"PUT PASSWORD OF YOUR HC2 HERE"

,

"pollerperiod"

:

"PUT 0 FOR DISABLING POLLING, 1 - 100 INTERVAL IN SECONDS. 2 SECONDS IS THE DEFAULT"

,

"securitysystem"

:

"PUT enabled OR disabled IN ORDER TO MANAGE THE AVAILABILITY OF THE SECURITY SYSTEM"

,

"switchglobalvariables"

:

"PUT A COMMA SEPARATED LIST OF HOME CENTER GLOBAL VARIABLES ACTING LIKE A BISTABLE SWITCH"

,

"thermostattimeout"

:

"PUT THE NUMBER OF SECONDS FOR THE THERMOSTAT TIMEOUT, DEFAULT: 7200 (2 HOURS). PUT 0 FOR INFINITE"

,

"enablecoolingstatemanagemnt"

:

"PUT on TO AUTOMATICALLY MANAGE HEATING STATE FOR THERMOSTAT, off TO DISABLE IT. DEFAULT off"

,

"doorlocktimeout"

:

"PUT 0 FOR DISABLING THE CHECK. PUT A POSITIVE INTEGER N NUMBER ENABLE IT AFTER N SECONDS. DEFAULT 0"

,

"IFTTTmakerkey"

:

"PUT KEY OF YOUR MAKER CHANNEL HERE (USED TO SIGNAL EVENTS TO THE OUTSIDE)"

,

"enableIFTTTnotification"

:

"PUT all FOR ENABLING NOTIFICATIONS OF ALL KIND OF EVENTS, hc FOR CHANGE EVENTS COMING FROM HOME CENTER, hk FOR CHANGE EVENTS COMING FROM HOMEKIT, none FOR DISABLING NOTIFICATIONS; DEFAULT IS none"

,

"LockCurrentStateDelay"

:

"PUT THE NUMBER OF SECONDS (DEFAULT 2) TO DELAY THE UPDATE OF LockCurrentState READ EVENT"

,

"LockTargetStateDelay"

:

"PUT THE NUMBER OF SECONDS (DEFAULT 2) TO DELAY THE UPDATE OF LockTargetState READ EVENT"
Gli unici tre parametri obbligatori sono:
Host: ovvero l'IP del nostro HC2;
Username: l'utente registrato su HC2;
Password: la relativa password.
Una volta riavviato, nel file di log vedremo i vari dispositivi che saranno rilevati e avremo quindi il nostro Home Center 2 in HomeKit.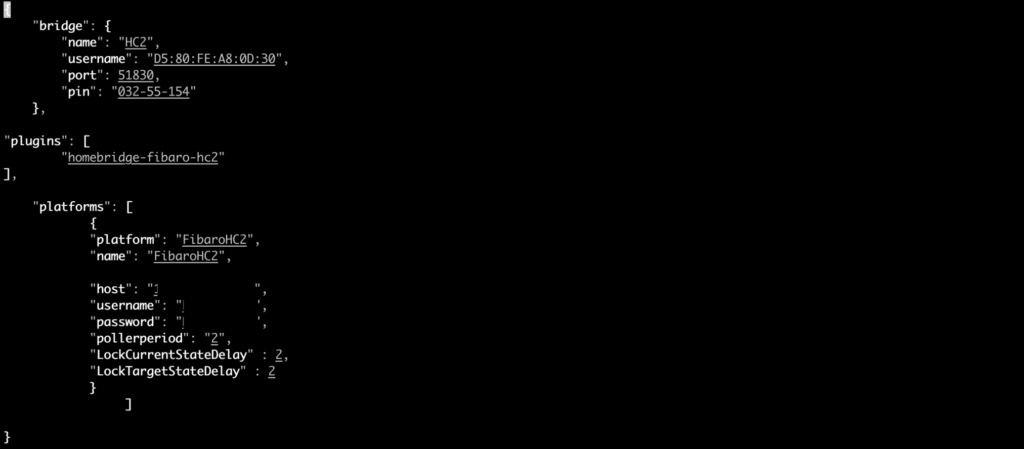 Home Center 2 in HomeKit: Pregi e Difetti
Per regole stabilite dalla FIBARO stessa, ci sono alcune problematiche relative agli utenti e alla modifica delle variabili globali tramite questo plugin.
Non è possibile, infatti, modificare le global variable se non si utilizza un utente amministratore.
Ma l'uso di tale utente comporterà anche la visualizzazione di tutte le scene, tutti i dispositivi e tutti i virtual device direttamente nell'applicazione Casa, senza possibilità di scrematura.
L'unico modo per decidere cosa visualizzare e cosa non visualizzare è l'utilizzo di un utente dedicato ed assegnare ad esso solo i Device, i VD e le scene desiderate.
Naturalmente, come detto, tale tipologia di utente non potrà modificare direttamente le variabili globali configurate in HC2: problema risolvibile creando un virtual device in HC2 che lancerà le scene che poi andranno a modificare i valori.

Un'altra problematica, in fase di risoluzione da parte dello sviluppatore, la configurazione dei VD e delle scene.
Sull'applicazione Casa, infatti, vengono visti come dei push button: questo fa si che non manterranno lo stato di on/off ma torneranno allo stato di off.
Al netto di queste problematiche, il plugin lavora correttamente e i tempi di risposta nell'esecuzione delle operazioni risultano estremamente rapide.
Conclusioni
L'integrazione di Home Center 2 in HomeKit, tramite questo plugin, risulta essere fondamentale se si vuole utilizzare delle rete basate su protocolli diversi.
Sto usando il plugin oramai da svariato tempo e non ho mai avuto nessun tipo di problema.
Se anche voi avete delle reti basate su HomeKit e su Z-Wave il mio consiglio è di utilizzare HomeBridge per aver il tutto su Casa.
Come sempre, abbiamo realizzato un video per spiegarvi meglio il suo funzionamento.
Vi ricordo anche di seguirci sul nostro blog e sui nostri canali social per non perdere nessuna recensione e nessuna news.