Apple Pencil 2: date sfogo alla vostra fantasia
Reading Time:
2
minutes
L'evento Apple "There's more in the Making" si è concluso lasciando tutti senza parole. Non mi riferisco naturalmente solo ai prezzi ma soprattutto all'evoluzione che i prodotti hanno subito. Sono stati presentati i nuovi Macbook Air, iPad Pro e Mac mini (che non veniva preso in considerazione da circa 4 anni). Le novità naturalmente non sono mancate per gli accessori e nello specifico per la tanto amata Apple Pencil 2.

Apple, dopo aver sondato attentamente il terreno con il primo modello di Apple Pencil, si è data da fare per migliorare questo accessorio creativo dando la possibilità a chi acquisterà il nuovo iPad Pro di poterlo sfruttare soprattutto come una vera e propria tavoletta grafica. Oggi, infatti, è stata presentata l'Apple Pencil 2 e, alla modica cifra di 139 euro (alla faccia), avrete la possibilità di portarvi a casa un utile strumento per gli appunti (per gli studenti) o per dar sfogo alla vostra fantasia (grafici). Gli Utilizzi sono molteplici e non mancano le Applicazioni pienamente compatibili con questo nuovo modello.
L'aggiornamento dell'Apple Pencil mostrato nell'evento "There's more in the making" aggiunge la possibilità di modificare la larghezza del tratto del pennello e altre funzioni toccando il dispositivo, con l'accoppiamento automatico e la ricarica wireless.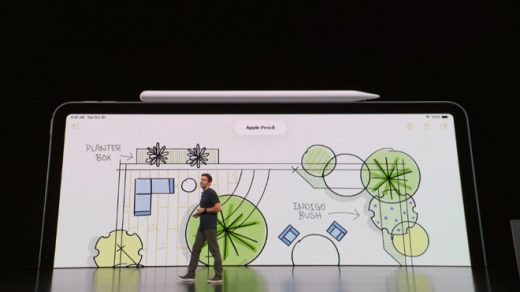 Formalmente chiamato Apple Pencil (2a generazione), questa presenta un nuovo design che porta la banda argentata del modello precedente nella parte superiore. Internamente, aggiunge sensori in grado di rilevare quando si tocca il corpo della matita.
Apple si discosta anche dalla perfezione ottenuta dal cilindrico spingendosi più da qualcosa dalla forma ottagonale: ora dispone di un'area piatta su un lato per il tocco. A seconda dell'applicazione utilizzata, toccando la matita si cambieranno le modalità, ad esempio, dalla scrittura alla cancellazione.

Apple ha migliorato la velocità con cui la matita si accoppia ai dispositivi. L'area piatta lascia che la matita si incastri magneticamente sul lato dell'iPad Pro per poi essere ricaricata attraverso questa connessione.
La nuova Apple Pencil, o Apple Pencil 2,  è disponibile per l'ordine online da oggi e sarà disponibile negli Apple Store da mercoledì 7 novembre. Funziona con iPad Pro da 12,9 pollici (3a generazione) e iPad Pro da 11 pollici.
La precedente Apple Pencil rimane in vendita per 99 euro ed è compatibile con iPad Pro Pro da 12,9 pollici di prima e seconda generazione, iPad Pro da 10,5 pollici, iPad Pro da 9,7 pollici e sesta generazione di iPad.
[Via]