There's more in the Making: nuovo evento Apple confermato
Reading Time:
3
minutes
Come in tanti ormai ci aspettavamo, Apple, dopo aver presentato i nuovi iPhone all'evento di Settembre, ha deciso dopo diversi anni di realizzare un secondo evento dedicato al settore "Educational" con il titolo "There's more in the Making".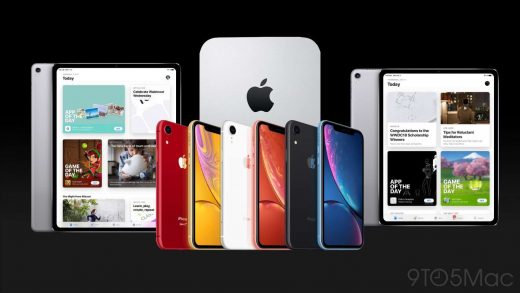 La data è ufficialmente fissata per il secondo evento autunnale di Apple: il 30 ottobre all'Howard Gilman Opera House di New York City. Apple ha annunciato ufficialmente i dettagli dell'evento con lo slogan "There's more in the Making" come un teaser.
Apple ha già presentato l'iPhone XS, l'iPhone XS Max, l'iPhone XR e l'Apple Watch Series 4 a settembre durante l'ultimo grande evento. Questa volta Apple dovrebbe presentare due modelli iPad Pro ridisegnati, un nuovo MacBook e probabilmente altri aggiornamenti alla linea Mac.
There's more in the Making: Inviti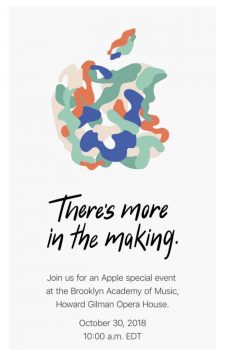 Mentre speriamo, ma non abbiamo la certezza, di vedere aggiornamenti sui Mac, la revisione di iPad Pro è quasi certa. La grafica dell'evento include una varietà di disegni centrati attorno al logo Apple.
Il secondo evento autunnale di Apple non si svolgerà al Steve Jobs Theatre di Cupertino come il suo precedente evento a settembre. Questa volta Apple eseguirà l'evento a Brooklyn alle 10:00 EST (che significa tre ore prima della giornata rispetto agli eventi della California).
Apple invites just hit – October 30th in NYC! pic.twitter.com/fPGjIBqxqQ

— nilay patel (@reckless) 18 ottobre 2018
There's more in the Making: iPad Pro Ridisegnato
Ci aspettiamo di vedere due versioni dell'iPad Pro introdotte questo mese: una nuova dimensione da 11 pollici e una ridisegnata dimensione da 12,9 pollici. Questo sarà un enorme upgrade per l'iPad Pro. Entrambi i modelli dovrebbero avere il Face ID e il design a tutto schermo senza notch, niente Touch ID e forse persino il cambio dello Smart Connector ed eventualmente sostituire la porta Lightning con una porta USB-C.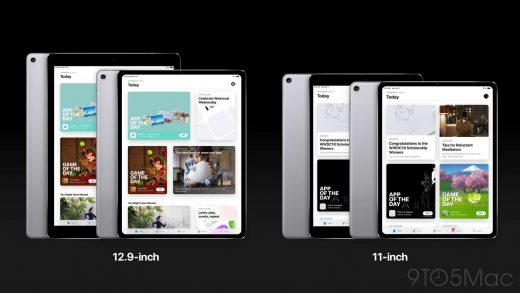 Attualmente l'iPad Pro è disponibile in due dimensioni: da 10,5 pollici e 12,9 pollici. La versione più piccola ha sostituito l'iPad Pro da 9,7 pollici originale, mentre la versione da 12,9 pollici è rimasta per due generazioni.
There's more in the Making: Mac aggiornati
Se stavate aspettando per comprare un nuovo Mac, aver aspettato sino a questo mese potrebbe dare finalmente i suoi frutti. Apple ha aggiornato il MacBook Pro da 13 e 15 pollici a luglio, aggiungendo il display True Tone, Hey Siri e le opzioni di base più elevate senza un evento.
Macbook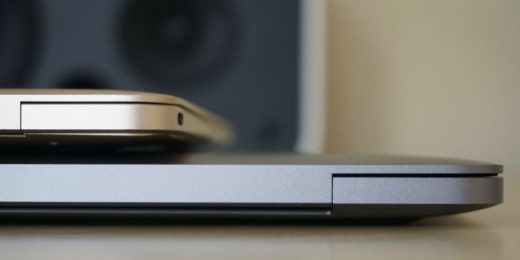 Attualmente Apple ha un computer chiamato semplicemente MacBook, la versione Retina da 12 pollici, e una versione da 13 pollici che sostituisce il MacBook Air potrebbe essere in procinto di essere presentato. Si è parlato per un po di rumors sui prezzi che potrebbero oscillare tra i $ 1000 – $ 1500, e un recente rumor afferma che includerà Touch ID (senza Touch Bar) e che quindi non sarà entry-level.
Mac mini

Parlando di Mac che non ricevono upgrade da anni, non possiamo che pensare all'amatissimo Mac mini. Se entri in un Apple Store e acquisti un nuovo Mac mini nel 2018, stai acquistando qualcosa con un hardware del 2014. Prevediamo che il Mac mini verrà finalmente aggiornato con specifiche moderne e all'avanguardia.
iMac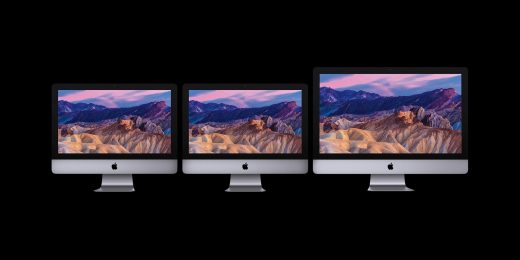 L'iMac è indubbiamente uno dei dispositivi che verrà aggiornato, sicuramente subirà delle modifiche a livello della qualità del display. Proprio come il MacBook Pro anche l'iMac dovrebbe ricevere finalmente la funzione True Tone anche se ancora non abbiamo informazioni su come questa tecnologia verrà integrata.
Apple ha aggiornato la linea iMac nel giugno 2017 durante l'evento WWDC e l'iMac Pro è stato lanciato sul mercato a dicembre 2017. È possibile che vedremo gli aggiornamenti di entrambe le versioni questo mese, anche se non sono emerse voci su aggiornamenti hardware riguardanti iMac Pro.
[Via]