GeForce NOW su Mac: test fase beta dell'app
Reading Time:
3
minutes
In questo articolo  vi avevamo parlato del servizio GeForce NOW, che permetteva di utilizzare il Mac per poter giocare con vari giochi.
Il servizio come abbiamo detto è per ora in fase di test beta solo negli Stati Uniti ed in Canada e MacRumors, come descritto nel loro articolo, ne ha iniziato la fase di test.
Scopriamo quindi come funziona.
Come detto il servizio consente di utilizzare un computer virtuale GeForce GTX nel cloud ed eseguire giochi che nel Mac non potrebbero funzionare. L'unico requisito necessario è una buona connessione Internet con il PC virtuale che gestisce tutti i requisiti di GPU e CPU.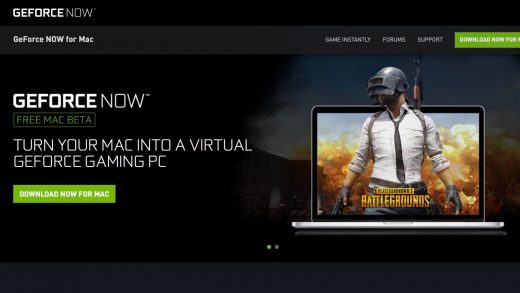 GeForce Now si integra con Steam e permette di giocare ai giochi  su questa piattaforma. Quindi il requisito necessario è l'acquisto del gioco, che si vuole utilizzare tramite il servizio di Steam.
MacRumors ha quindi testato il servizio, che ancora presenta alcuni problemi, ricordiamo che trattasi della versione beta, ma che promette bene in vista di un rilascio ufficiale.
L'installazione è semplice ed il download dell'applicazione GeForce NOW  ed una volta scaricata  ed installata l'app quest tramite Cloud si connette in streaming al vostro account Steam, permettendovi di giocare il vostro gioco.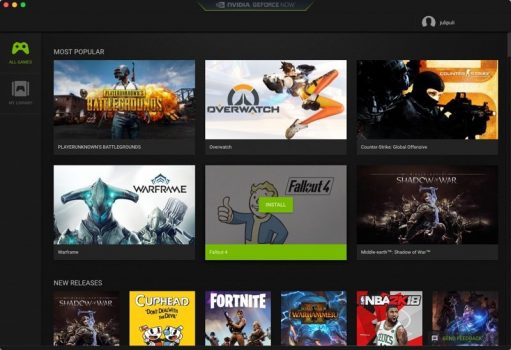 L'autore dell'articolo ha provato il gioco Battlegrounds e l'ha eseguito sul suo Mac 2013 permettendogli di giocare immediatamente. GeForce NOW segue per prima cosa un controllo del sistema per verificare se la connessione è sufficiente per un flusso di dati ottimali.
Connessione internet necessaria
Il servizio ovviamente dipendente dalla connessione internet che deve essere abbastanza veloce, ed è richiesto almeno una velocità di download di 25MB/s ed un router wireless da 5 GHz. Dalla stessa Nvidia è raccomandata una connessione di 50 MB/s. Ovviamente una connessione Wi-Fi potrebbe avere dei cali e quindi anche in fase di test ci sono stati cali di fotogrammi, che hanno reso impossibile il prosieguo del gioco.
Pertanto per poter giocare tranquillamente, qualora la connessione Wi-Fi non sia delle migliori è consigliato accedere ad internet tramite un cavo Ethernet.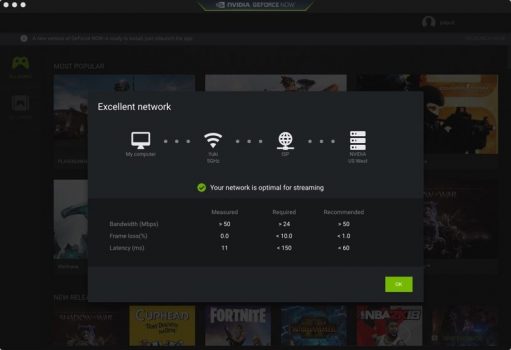 GeForce NOW è supportato daunt gran numero di Mac prodotti a partire dal 2008.
L'elenco dei Mac supportati sono visionabili a questo link, rilasciato dalla stessa Nvidia.
Il servizio supporta già un discreto numero di giochi ed altri se ne aggiungeranno in seguito.
Già è possibile giocare ai seguenti titoli:
 League of Legends,
Fallout 4,
Overwatch,
Path of Exile,
World of Warcraft,
The Witcher 3,
Rocket League,
Destiny 2
Middle-Earth: Shadow of War.
La fase di test durerà circa a fine anno ed il lancio della versione definitiva è previsto per il 2018; il prezzo del servizio ancora non è stato annunciato.
[amazon_link asins='B00QQ4EZNM,B06WWBYL5V,B01N5WV39C,B01LZ5UGFV,B01N0MDJOC' template='ProductCarousel' store='mrapple0a-21′ marketplace='IT' link_id='d230181e-b450-11e7-891a-c9f4fd39b7ea']